Straitstimes Link: https://www.channelnewsasia.com/cna-insider/ambulance-wish-singapore-charity-volunteer-terminally-ill-patients-3252066
She could die if her aneurysms rupture, but Laura Teng does not see them as a 'time bomb'. Neither does she want sympathy. Instead, she has found a way to 'live to the fullest' by helping to fulfil others' wishes.
SINGAPORE: She was battling colon cancer and receiving palliative care.
But one day in December, 35-year-old Melanie Choy was transported from the life she knew to the wondrous world of Pandora, where she basked in a cloud forest environment and came up close to creatures from the film Avatar.
The former freelance photographer was a big fan of the 2009 James Cameron film and said she had been waiting for its sequel for five years.
As she was wheeled through the Avatar: The Experience event at Gardens by the Bay, she was "enthralled" by the life-sized figurines. "The experience was amazing, and I really enjoyed myself," she said.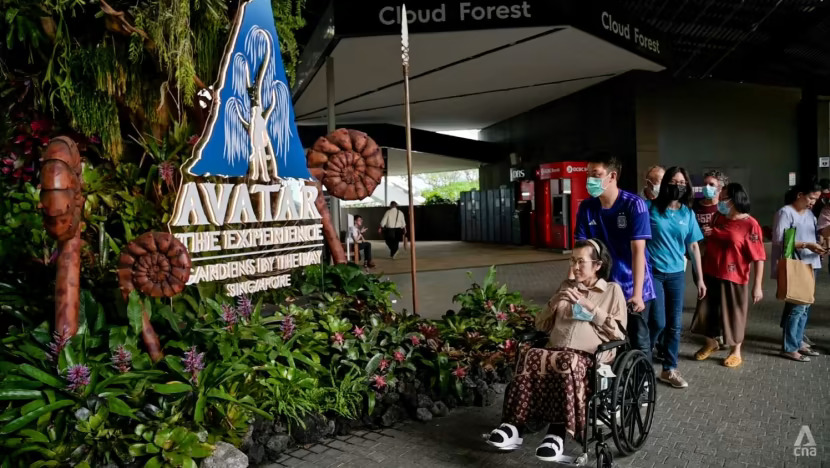 Besides her heart and senses, the outing also filled her tummy during a stop at Mylo's cafe, where she had gelato, soda and waffles.
"I'm overjoyed," said her father, Choy Kok Wai, 68, whose favourite moment of the trip was seeing his daughter standing happily in front of one of the figurines.
"To tell you the truth, if (the outing) wasn't organised, I don't think we'd ever have journeyed here."
The organisers were Laura Teng, 49, and fellow volunteers from Ambulance Wish Singapore (AWS). Established in 2019, the charity helps to grant the wishes of Singaporeans and permanent residents aged 19 and above with a prognosis of less than a year.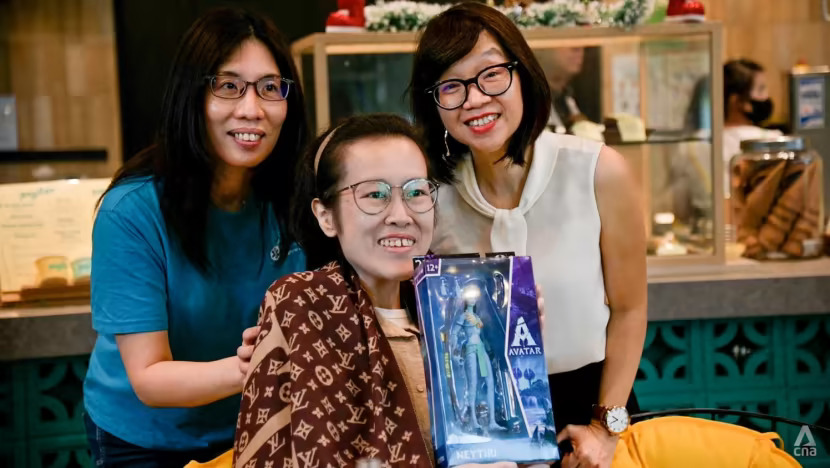 The potential wish recipients could be referred by their families or healthcare providers, with their consent, or they could make requests themselves.
'BLESSING' OTHERS TO COPE
Watching Teng as she accompanied the Choy family around Gardens by the Bay, one would never have guessed she has a fear of crowds — or multiple health worries of her own.
In 2015, she discovered she had brain aneurysms, which are bulges in the brain's blood vessels that can be life-threatening if they rupture.
She survived an emergency procedure to insert tiny clips to stem blood flow to two aneurysms. But a third aneurysm was deemed too risky to treat at the time.
After surgery, her life changed. She could no longer do strenuous exercise. Worried that her blood pressure would go up and increase the risk of ruptured aneurysms, she became afraid of going to crowded places, especially without her family.
WATCH: The simplest last wishes — Why I dedicate my life to the dying (8:26)
"I feel like if anything happened to me, nobody would know what I'm going through and what sickness I have," she said.
Some activities she enjoyed doing with her two children, who were in primary and secondary school then, also came to a halt. Besides window shopping, these included overseas trips as she did not want to take the risk of flying.
In 2021, she got her third aneurysm treated, only for doctors to find a fourth.
During her hospital stay, Teng chanced upon a video clip about AWS. It touched her, and she thought, maybe this was something she needed to do — bringing joy to others might be a way to "cope" with her health issues.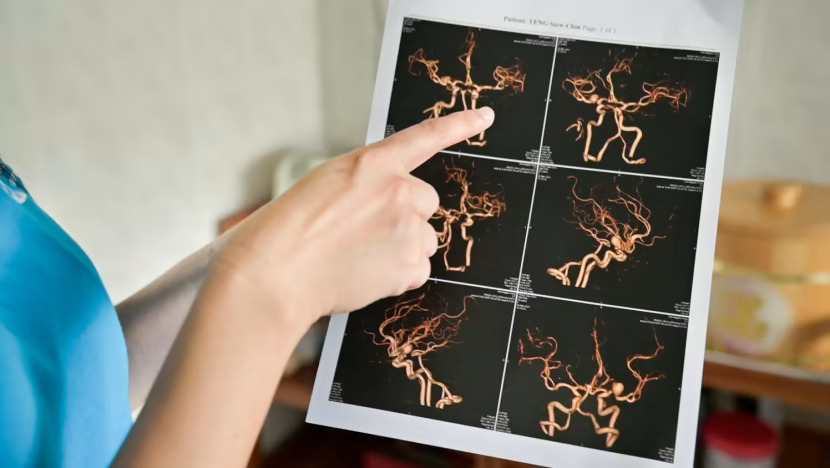 "It's better to give than to receive," said Teng, a human resource executive whose children are now aged 18 and 22. She also thought: "Maybe one day, I might need to receive this blessing from others as well."
Since signing up as a volunteer in August 2021, she has helped to fulfil the wishes of 14 beneficiaries.
Among other things, she has organised a staycation and photoshoot for a cancer-stricken woman and her husband as well as installing a fish tank for an elderly man living alone.
From feeling like she had "lost hope" after the news of her health condition, Teng now feels "much more inner joy". Where once she was lacking in confidence because of her condition, the self-doubt has stopped, she said.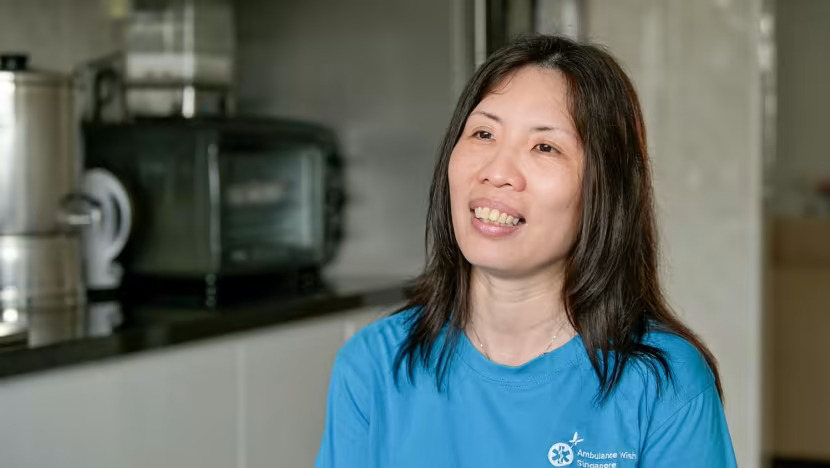 She has also overcome her anxiety about crowded places — enough to see her wish projects through. "I'll tell myself that what I'm here (to do) is to fulfil a patient's wish," she said.
Stressing that she does not want sympathy, Teng said she was sharing her story in the hope of inspiring others to consider volunteering.
"I don't treat (my aneurysms) as a time bomb," she added. "I just live to the fullest, like a normal person."
POWER OF A WISH
AWS has fulfilled 129 wishes to date and receives an average of six to seven requests a month, said vice-chair Carol Wee. Beneficiaries hail from a mix of backgrounds, and not all are on low incomes or lack family support.
"We sometimes get asked, if a patient (or family) is well-to-do or if there are family members, why can't (they) help fulfil the wishes, which could be as simple as going out for a meal with the family," said Wee.
"Our reply is that (when) caring for someone at the end stage of life … their priority is to make sure the patient is comfortable and well taken care of in terms of medical needs.
"They wouldn't have the bandwidth, energy, time or the right frame of mind to plan out a wish."
In addition, some patients may not feel comfortable sharing their last wish with their loved ones. They may not want to place an extra burden on the family.
Yet, a wish can be powerful.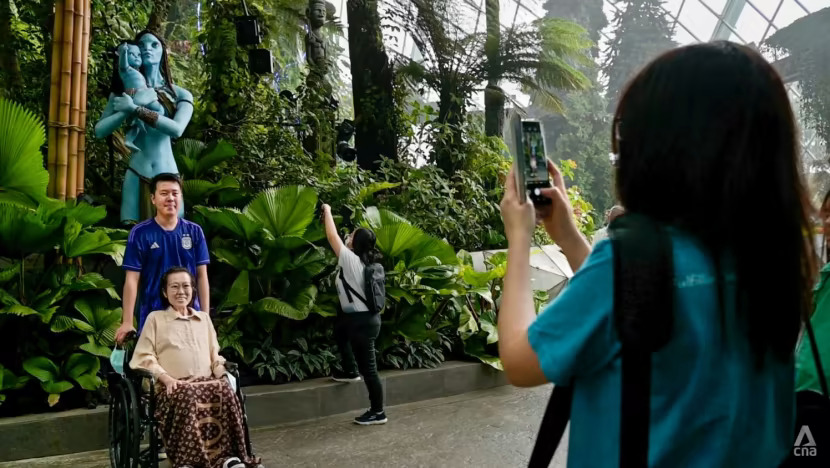 Wee, who is a healthcare administrator, had witnessed it as a volunteer with another charity, Make-A-Wish Singapore, which fulfils the wishes of children aged three to 18 with critical illnesses.
When patients undergo difficult treatments such as chemotherapy, wishes can provide a reason for hope. "It lifts their spirits and gives them so much joy and something to look forward to. That's the power of a wish," said Wee.
TWO TRIES TO START THE CHARITY
AWS is an affiliate of the Ambulance Wish Foundation founded by former Dutch ambulance driver Kees Veldboer, but operates independently, said Wee.
The late Veldboer set up the foundation in 2007, a year after helping a patient he had met on the job.
While transferring the man, who loved sailing, to another hospital, they stopped by a canal to enjoy the "beautiful sunny day" after the man's treatment was delayed. Veldboer later organised a boat trip for him around Rotterdam harbour.
Wee came across the foundation in 2016 through a friend's Facebook post and tried reaching out to Veldboer without success.
The following year, inspired after hearing a talk about how Singaporean charity HealthServe was set up to serve the needs of migrant workers, Wee tried again.
This time round she got a positive response: Veldboer would be "most happy to support (us) if we wanted to set up a chapter in Singapore".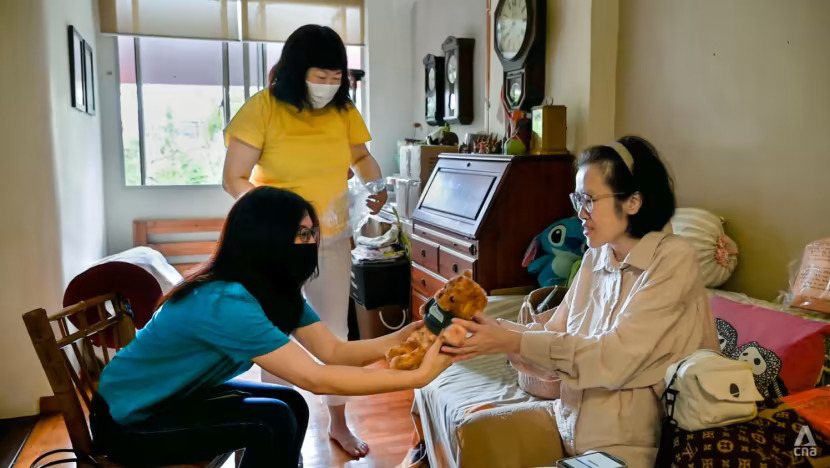 AWS fulfilled its first wish in November 2019 — an outing to East Coast Park for a man and his children, with dinner, photos and durian included.
Currently, AWS has more than 200 volunteers. When requests come in, Wee would form a team, usually comprising three to four volunteers.
One would be the lead wish granter, liaising with the patient or the next of kin to arrange a chat or visit first. This first step is "really important", said Wee.
"By knowing more about the patient — their interests, background — we can put together a more meaningful wish experience for the patient."
Most wishes are fulfilled with "some degree of sponsorship". Entities that support AWS' work include ambulance service providers, party decoration suppliers, florists and Gardens by the Bay, she cited.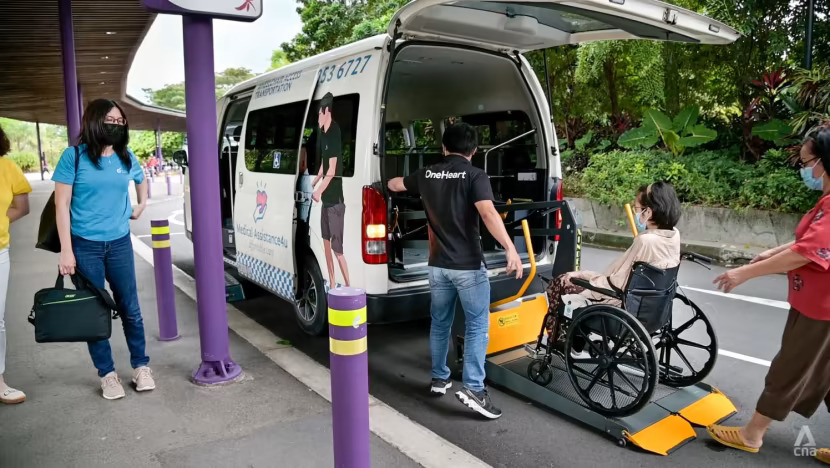 Besides the Singapore Cancer Society, the National Cancer Centre Singapore, hospices and hospitals with palliative wards, AWS hopes to reach out to more entities such as nursing homes, she added.
"We don't have full-time staff. We hope to be able to build up the team so we can do more, contribute more."
'LET'S BE FRIENDS FOR A LONG, LONG TIME'
While AWS is able to fulfil wishes "most of the time", said Wee, there are occasions where time runs out for both the patients and wish granters.
Melanie Choy's wish was to watch the long-awaited sequel, Avatar: The Way of Water, on Dec 15. But her condition deteriorated before the day arrived. She was unable to make it to the cinema and died on Jan 5.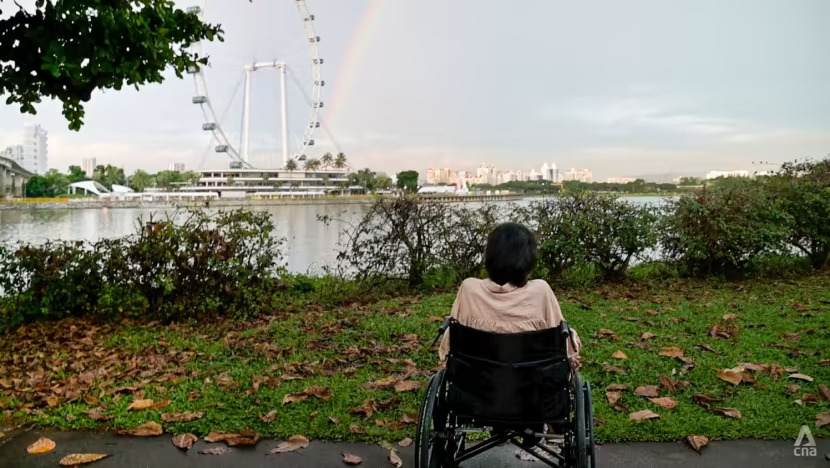 With some other beneficiaries, Teng has remained a part of their lives even after their wishes had been granted.
Beneficiaries such as Tan Lun, 84, who asked for an electrical socket to be installed near her washing machine in 2021. She had been using another socket in her kitchen and risked tripping over the extended electrical cord.
"I'd been worried about this plug for many years, perhaps five to six years," said Tan, who was diagnosed with breast cancer in 2005, had a relapse that spread to the bone in 2016 and is now in palliative therapy.
Besides finding a handyman to complete the job, the AWS volunteers organised a trip to Gardens by the Bay for Tan, who loves flowers, and two of her friends. Teng also gave her a floral umbrella.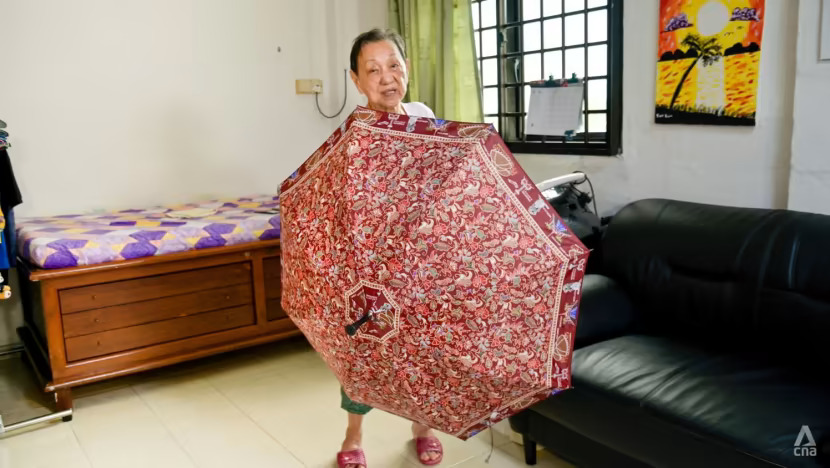 They kept in touch, and in December, Teng visited the older woman and brought fish soup with her.
"I'm grateful for your love and care," Tan told her. "Let's be friends for a long, long time."