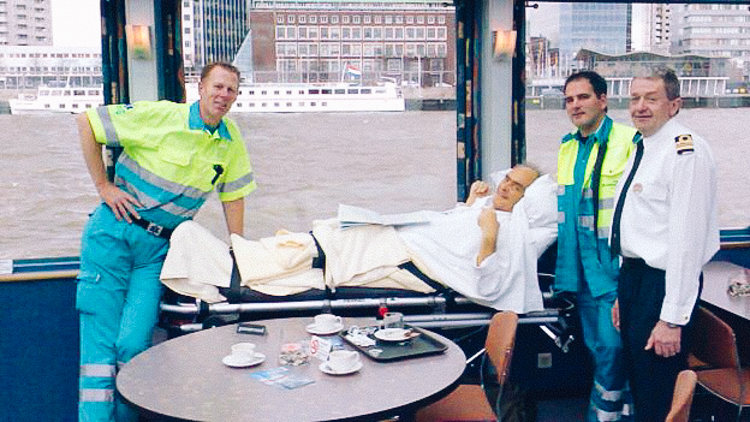 A picture, they say, is worth a thousand words. That is why a short story featuring not one but seven powerful photographs of terminally ill patients living out their final wishes was all it took to move a small group of people to decide to form Ambulance Wish Singapore – the charity organization behind the granting of wishes for terminally ill patients. Wishes that bring cheer to a patient's final days, lasting moments that will forever be remembered and cherished by their loved ones.
The story on the amazing impact of the work of AWF is far too important not to share. And so came the inspiration and determination to pursue the mission of AWS, that is to create positive end-of-life experiences for terminally ill patients through the fulfilment of their final wishes.
In 2019, Ambulance Wish Singapore was officially established. Each and every member on board AWS deeply believes in its mission and has experience in caring for and working with dying patients. We therefore know how important it is to make these final moments meaningful through fulfilling wishes and celebrating lives.
News of this initiative soon spread and we are thankful for the amazing support from our volunteers, donors and people from all walks of life wanting to join us in helping the terminally ill patients live out their final wishes.
Established in 2006, Ambulance Wish Foundation (AWF) has its origins in the Netherlands where it has been fulfilling the wishes of terminally ill patients.
There are patients who die without closure due to an unattainable, but often times simple wish. One of the main reasons that these patients were not able to fulfil these wishes is because they are bed bound or require medical support which makes it difficult for them to be moved.
An event at work for Kees Veldboer, ambulance driver and founder of Ambulance Wish Foundation, in 2006 led to the establishment of Ambulance Wish Foundation.
An inter hospital delay for a patient by the name of Mario Steffanutto led to Kees Veldboer asking the patient if there was anywhere he would like to go while waiting. Mr Steffanutto, a former sailor, asked if he could be taken to the Vlaardingen canal so he could be by the water and say one last goodbye to Rotterdam harbour. Using an ambulance on his day off and with the help of a firm that does boat tours, Kees Veldboer granted Mr Steffanutto's heartfelt wish, bringing him not just to the harbour but giving him the final opportunity to sail again, much to his delight.
It was an experience that touched not just the patient but Kees Veldboer too who went on to set up Ambulance Wish Foundation.
To date, Ambulance Wish Foundation has fulfilled 10,200 wishes with the support of some 270 volunteers. It has affiliate offices in countries including Belgium, England, Ecuador, Germany, Israel, Switzerland and Sweden.
It is hoped that the meaningful work of Ambulance Wish Singapore will serve to benefit the Singapore community, particularly terminally ill patients where we hope to improve the quality and enjoyment of life for those in their final days.
Other Ambulance Wish Foundation Affiliates
Charity Status

Constitution: Public Company Limited by Guarantee
Date of Incorporation: 24/05/2019
UEN: 201916704W
Institution of a Public Character (IPC) Status

Effective Date: 17 October 2023 to 16 October 2024 (both dates inclusive)
Approved by: Ministry of Social and Family Development