Straitstimes Link: https://www.straitstimes.com/singapore/charity-that-fulfils-last-wishes-of-terminally-ill-patients-marks-anniversary-with-fundraising-drive
SINGAPORE – As the soft light danced on his hands, Mr Peter Ho reached out towards the aquarium. In the water, shimmering fish followed the movement of his fingers as he looked on.
This was a moment Mr Ho had long hoped for. From before the Covid-19 pandemic, the 85-year-old, who spent five decades working in a fish farm, had wanted to visit Resorts World Sentosa's S.E.A. Aquarium.
Such a visit would have ordinarily been a logistical nightmare to organise. Mr Ho was diagnosed with stage four throat cancer in 2020, and requires a wheelchair and a suite of supplies, including medication and sterile dressing, to get around.
But Ambulance Wish Singapore (AWS) helped him overcome these hurdles on May 8, when it arranged a visit to the aquarium for him and his daughter, Ms Christina Ho, 57.
The charity has fulfilled the last wishes of 145 terminally ill patients since its founding. It celebrated its fourth anniversary on Wednesday. It will mark this milestone by launching a fund-raiser this week called Cycle of Peace, an annual virtual cycling charity drive to raise awareness and funds.
Participants can register at www.ambulancewishsingapore.com/cycleofpeace from Saturday.
For Mr Ho, AWS arranged for a private tour of the aquarium, followed by an overnight stay at the Equarius Ocean Suites.
AWS volunteers were there to carry medical supplies and equipment, and provide refreshments as Mr Ho explored the aquarium.
"To take him out is not an easy task," said his daughter, Ms Ho. "I can't manage on my own."
AWS said fulfilling such wishes is a form of palliative care and helps these patients to cope with their worries and anxiety.
The charity is the local arm of Ambulance Wish Foundation, which was established in 2006 in the Netherlands by ambulance driver Kees Veldboer.
It gets wish requests from patients or their family members who apply directly to AWS, or through a healthcare worker's referral. Eligible patients must be Singaporeans or permanent residents aged 19 and above, with 12 months or less to live, and must not have received a wish from a similar organisation.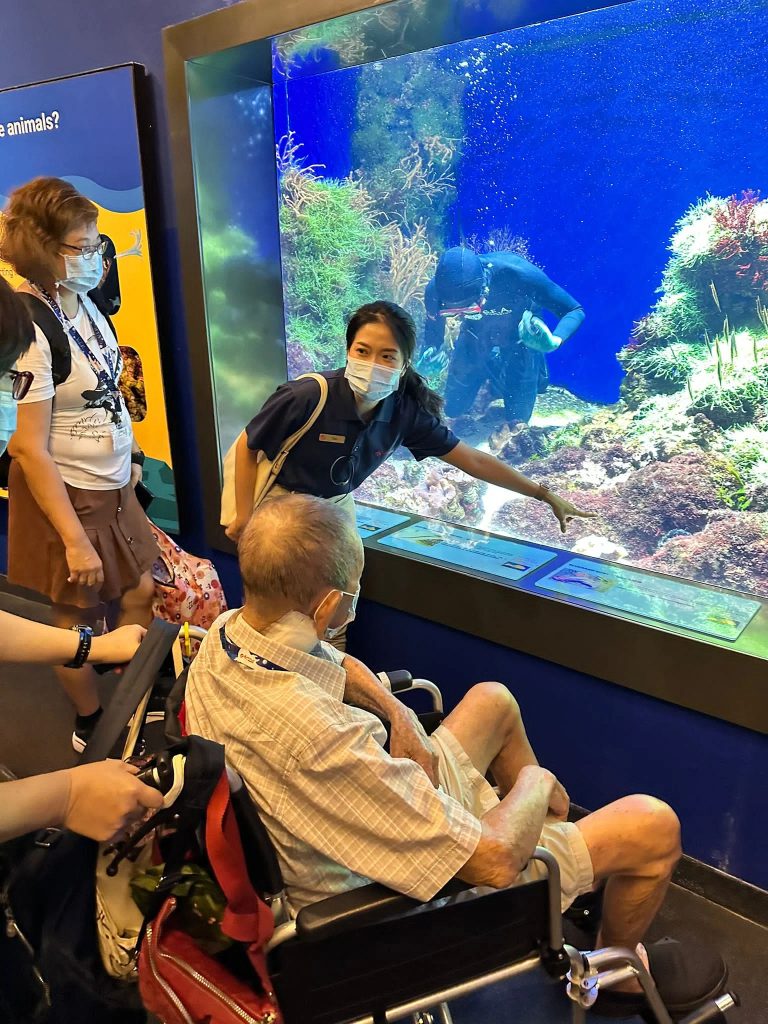 Wishes are funded by public donations and sponsorships from nearly 100 organisations and businesses. If a wish exceeds its allocated budget, or is difficult to fulfil, the team will explore alternatives with the patient.
"By helping to fulfil these wishes, special memories are created, and it brings a measure of comfort and peace to patients and their families," AWS chairman Ong Yew Jin told The Straits Times.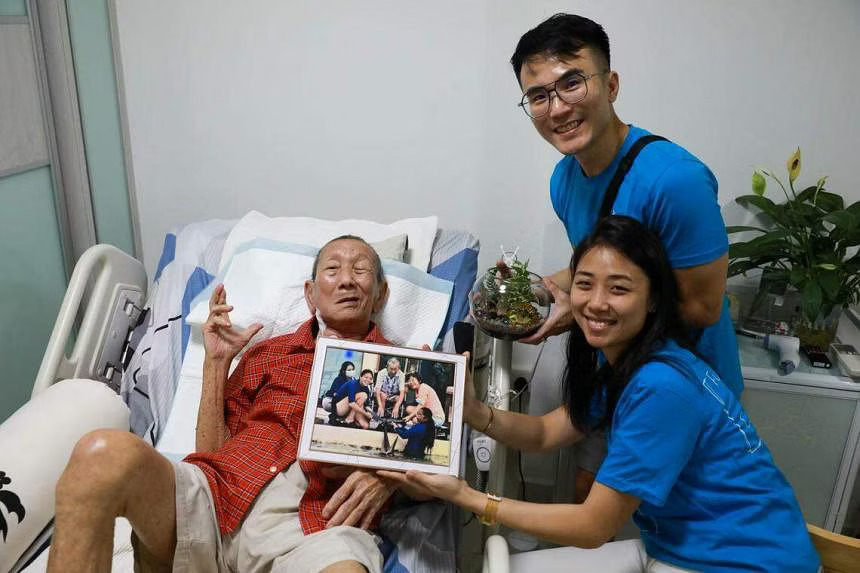 Another man who recently had his final wish granted is 82-year-old Mohd Salleh Ismail, who wanted to visit the Singapore Island Country Club (SICC), where he once worked as a caddy and discovered his love for golfing.
Affectionately known during his golfing stint as a "buaya" (crocodile in Malay), a golfer who plays down his skill by declaring a high handicap, Mr Salleh had once even caddied for founding prime minister Lee Kuan Yew.
AWS arranged for an ambulance to transport Mr Salleh from his home to SICC on a stretcher, and planned a route to take him through the golf course where he could reminisce about his time on the putting green.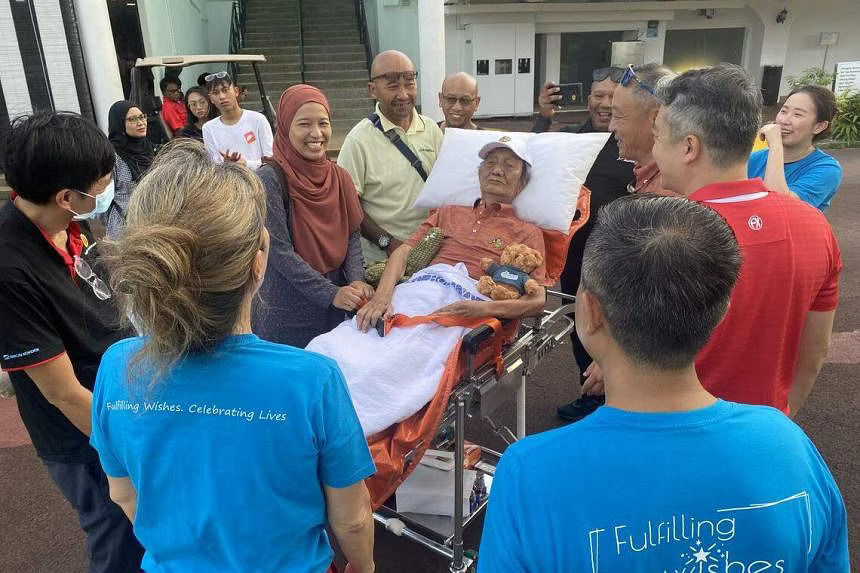 During the visit on May 7, Mr Salleh, who has prostate cancer, was given a stuffed crocodile.
When it was presented to him, he "could not hold back his tears", and hugged it tightly throughout the rest of the outing, said AWS, which shared an account of the recent visit on its Facebook page.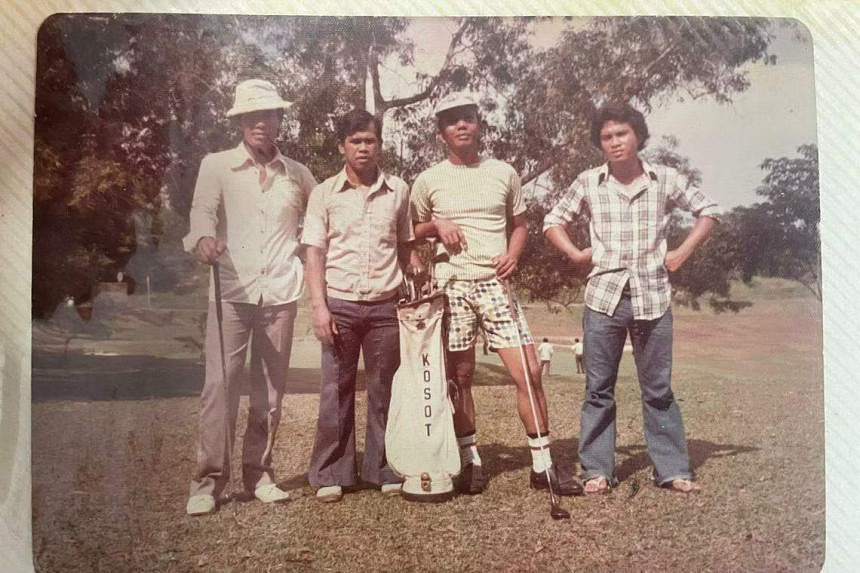 AWS founder Carol Wee said outings like these help terminally ill patients like Mr Salleh "reclaim" their identities. "This is how he wants his family to remember him – as a dad, grandfather, veteran SICC staff member and golfer. This is what he cherished the most," she said, adding that AWS spends time to get to know patients and understand why these wishes are important to them before planning such outings.
The charity's volunteers said that their lives have been changed by helping to fulfil the last wishes of the dying.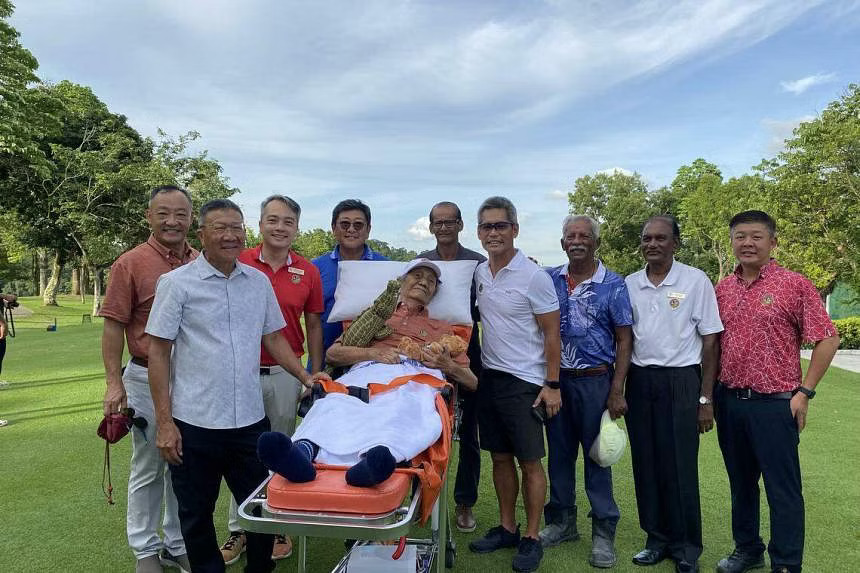 In the first wish he was involved in, Mr Jason Goh, 42, a bank executive, helped a patient phone veteran actress Zoe Tay.
"It was only a short five minutes, but you could see the smile and happiness on the patient's face. That changed her life," he said.
"That really woke me up. Here I am chasing the dollar and everything, while someone at their tail end has such a simple wish."